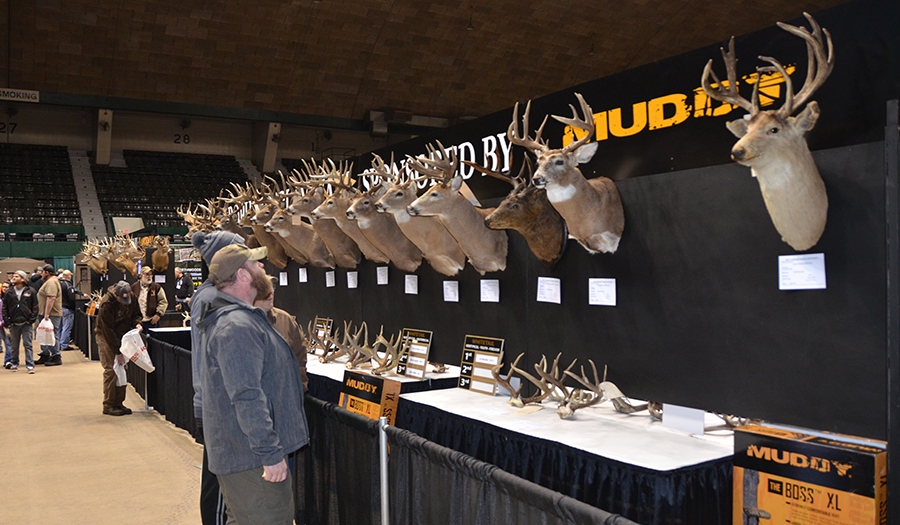 The 2022 Min­neso­ta Deer & Turkey Clas­sic will con­tin­ue the state's grand tra­di­tion of show­cas­ing Minnesota's top white-tailed deer and oth­er big game. The Min­neso­ta Offi­cial Mea­sur­ers again will bring its team of scor­ers for scor­ing of deer and oth­er Min­neso­ta big game.
Come to the show and see all the great­est deer Min­neso­ta pro­duced from 2021 as well as incred­i­ble bucks from past seasons.
Only game tak­en in Min­neso­ta will be scored. No ani­mals tak­en in a high fence allowed.
Get Your Tro­phy Scored and Win Some Great Prizes!
Be a part of Min­neso­ta white-tailed deer hunt­ing his­to­ry and include your tro­phy in the biggest dis­play of state bucks in one place. If you took a mount-wor­thy buck dur­ing one of the 2021 Min­neso­ta hunt­ing sea­sons, bring it to the 2022 Min­neso­ta Deer & Turkey Clas­sic. The event allows you to show­case your tro­phy for the entire week­end, plus, you have a chance to win rib­bons and great prizes.
Bring your antlers in for all three days of the show – sched­uled Fri­day through Sun­day, March 11–13 at the Can­ter­bury Park Expo Cen­ter in Shakopee, MN and get in on an addi­tion­al draw­ing! Details here
Mud­dy Out­doors Boss XL hang-on tree­stands will be award­ed for first place in each of the 36 cat­e­gories, but win­ners must be on hand for the Deer and Turkey Clas­sic awards pre­sen­ta­tion on Sun­day, March 13 (at 3 p.m.) to receive their stand (win­ners also receive a blue rib­bon). The top three fin­ish­ers receive ribbons.
Staffers from the Min­neso­ta Offi­cial Mea­sur­ers will be on hand scor­ing antlers all three days of the Clas­sic. The scor­ing office will open ear­ly each day of the show – Fri­day at 10 a.m., Sat­ur­day at 8 a.m., and Sun­day at 9 a.m. Tro­phies that the MOM staff scores also can be entered into the organization's state record book, "Big Game Records of Minnesota."
Those intend­ing to bring their big-game tro­phy antlers to the Min­neso­ta Deer and Turkey Clas­sic should rest easy in the knowl­edge that those prized pos­ses­sions will be in good hands, there will be 24 hour secu­ri­ty to watch over the tro­phy bucks.
The Min­neso­ta Deer & Turkey staff looks for­ward to see­ing you and your antlers at the 2022 Deer and Turkey Classic!