Come meet NHL Hockey Legend & former Minnesota North Starn Neal Broten on Sunday March 15 at noon in the Sunset Lodge booth #510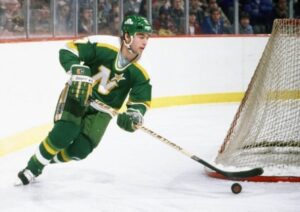 Neal Broten attended Roseau High School, a perennial hockey contender in the state of Minnesota, where he appeared with the Rams in the state tournament in three consecutive years (1977–79). His 1978 achievement of four assists in a single period still stands as a Roseau Rams' record today.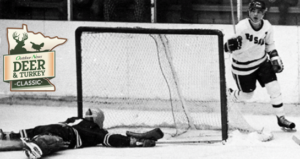 As a college freshman playing for Herb Brooks and the Minnesota Golden Gophers, Broten scored 21 goals, had 50 assists, and was named WCHA Rookie of the Year. His final goal of that season was the game winner that clinched the 1979 NCAA Championship in which the Gophers defeated the University of North Dakota by a score of 4–3. Broten would later win the inaugural Hobey Baker award in 1981, which honors the US collegiate hockey's best player.
Broten is one of a few players to have played on teams that won the NCAA hockey championship (University of Minnesota in 1979), the Olympic Gold Medal (Team USA, 1980), and the Stanley Cup (New Jersey Devils, 1995). He is the only player to have won the Hobey Baker, the Olympic Gold Medal and the Stanley Cup. In addition, Neal Broten and Ed Belfour are the only players to have won an NCAA championship, an Olympic Gold medal and the Stanley Cup.
Broten was member of the United States Olympic team that won a gold medal at the 1980 Winter Olympics in an event known as the "Miracle on Ice". He was also a member of Team USA at the 1981 Canada Cup and 1984 Canada Cup tournaments as well as the 1990 Ice Hockey World Championship.
Broten played 17 seasons in the National Hockey League. Highlights of his long NHL career include the first American to score more than 100 points in a single season (1985–86) as well as two NHL All-Star Game appearances in 1983 and 1986.
He won a Stanley Cup with the New Jersey Devils in 1995, scoring the game-winning goal in Game Four against the Detroit Red Wings to clinch the title. Coincidentally, his 1980 Soviet counterpart Viacheslav Fetisov was on the ice for the heavily favored Red Wings when Broten scored the clincher. Broten became the first American to score a Cup-winning goal.
Broten briefly came out of retirement in 1999 to once again play for the US national team in the 1999 Ice Hockey World Championship qualifying tournament (the U.S. team featuring several NHL players had surprisingly finished among the bottom four in the previous 1998 world championship tournament) when no active NHL players were available. He scored six points in three games as the U.S. won the tournament, before retiring from hockey for good. He lives in River Falls, WI.